UNRAVEL – An Afternoon of Creative Reuse
Description:
UNRAVEL – An afternoon exploring creative reuse & the future of fashion Swapsies & 100% Reloved invite you to UNRAVEL – an afternoon of creative Reuse. Join us on Sunday, October 6th upstairs in The Blue Room, in the Dean Hotel from 1pm -4pm.
We have a jam-packed afternoon lined up for you this #ReuseMonth! Once you are checked in with your hot beverage, we invite you to sit down, relax and join the team from 100% Reloved who will guide you through an easy sewing workshop. Sorcha O' Raw and Caoimhe Ni'Bhroin are embroidery extra-ordinaires and will help you to sew the 100% ReLoved heart onto your preloved gem. The heart is a symbol of pride in giving clothes a new or extended life. It encourages creativety, collaboration and circular ways of thinking. It really will be SEW easy!

Next up is the short screening of the documentary UNRAVEL. This documents the journey of our clothes after use – think of the clothes which have been sold on and where they go. Filmmaker Meghna Gupta shines a light on clothing recyclers daily lives in Northern India and in the process asks the audience to question our own relationship with how we consume and treat our clothes. This will be followed by a panel discussion with three very special guests around our clothes and the importance of Reuse! Considering that it is #ReuseMonth after all, it would be rude not to discuss the impact our clothes are having, both on us and our planet! We can't wait to meet you all and please read below for what you need to bring along on Sunday, October 6th(aside from your good self of course!)
*What to bring*
We want you to bring your favourite garment to relove 🙂 Whether that is something you thrifted – swapped with a friend – or bought in a second hand store that you would like to relove, or is simply a gem you have had for ages. We suggest denim material -/ canvas tote bags / collars or cuffs of shirts. If you don't want to sew there will be pins /patches available to purchase on the day from 100% Reloved.
This event is kindly sponsored by Dublin City Council which allows us to donate all the proceeds from tickets to a more than worthy cause. Door sales will go directly to LABOUR BEHIND THE LABEL ' who tirelessly work to improve conditions and empower workers in the global garment industry. We hope this event will start a conversation to reconnect and reflect on where our clothes come from, how we treat our clothes and and ask the question – who made my clothes? You can find more info on them below:
Event Layout:
Arrival – Tea & Coffee from 1pm
Guided Embroidery Workshop from arrival 1pm until 2.15pm (we recommend giving yourself at least 30 mins for this)
More Tea / Coffee to accompany UNRAVEL documentary screening 2.40pm
Panel discussion moderated by Clodagh from Swapsies with Q&A's from audience until 3.45pm around what we can do to take action for the future of our clothes.
SPECIAL GUESTS will be announced soon 🙂
*Please note there will be a photographer on site, please let us know if you do not wish to be photographed.*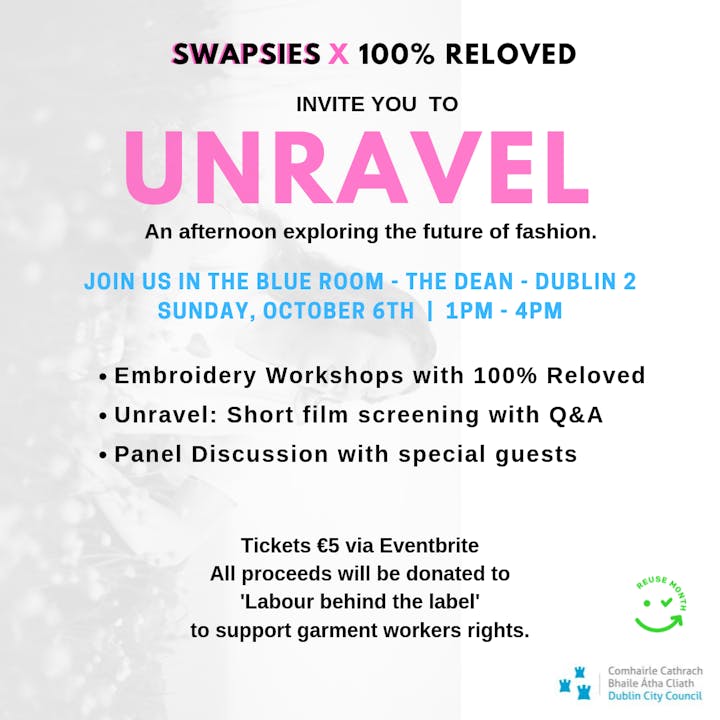 Date and time:
06 October 2019 from 1:00 pm to 4:00 pm
Location:
The Dean Hotel
Harcourt Street
Dublin
Event categories:
Circular Economy

Craft

Create

Fashion